Topic: Post your Polysics Collection
I thought I'd upload a new picture of my Polyswag, since I'm not sure how long it's been since I've done a group shot of my stuff. And I'm not sure if we ever had a thread for collection pictures, but hey, this'll work!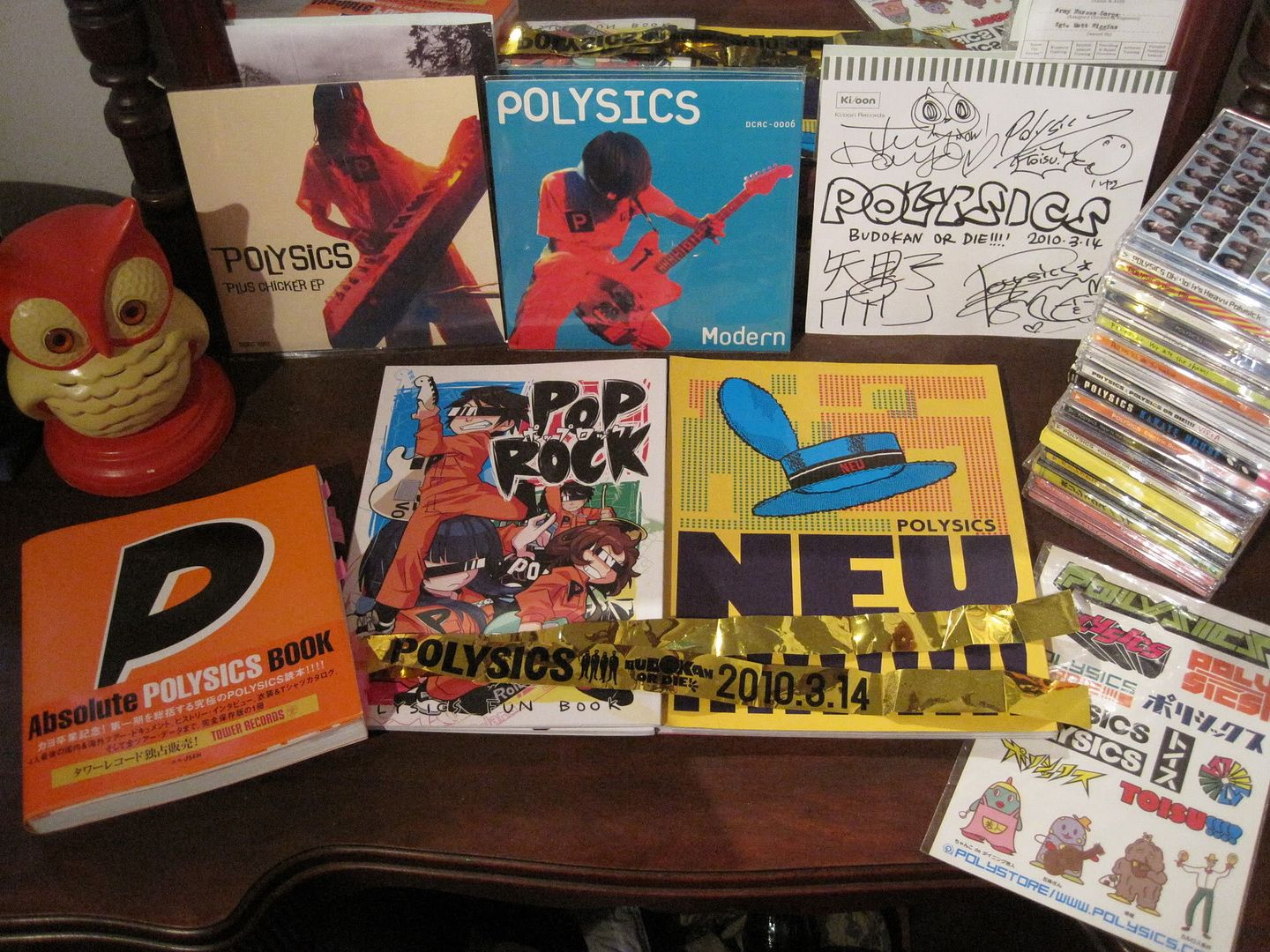 (click here for larger pic)
Pictured are 18 Polysics CDs, Kayo's CD, NEU!!!!!!!!!!! book, Absolute POLYSICS book, four Polysics doujinshi fancomics, Polysics stickers from 2008, Budokan Peach Pie on the Beach streamer, Budokan autograph, and my two new jewels: the Plus Chicker and Modern EPs.
And yes, Davy, before you ask, I did get that auction for Modern. I've been afraid to mention it, but that's how online auctions happen. I was pretty sure I was gonna get outbid too, so I was surprised I won. But boy, am I glad I did! I have been drooling over it, and now Plus Chicker, ever since I got it!!
Also, check out the orange owl in the picture! It's something my mom just gave me, it's an antique night light lamp that looks like it was just made for Kayo! It's right up my alley too, so I adore it <3
The only things of mine that aren't pictured are my posters, included an autographed one and then my Moog is Love shirt. I have those pictured in older pictures I've taken of my collection, here, minus the shirt.
So, post pictures of your Polysics swag!
Edit: OH I forgot my Budokan DVD! It's in that second picture though, haha.
I don't post here much anymore but I still have a fond appreciation for Polysics. Hit me up on Twitter @west_haven if you really wanna talk to me