Topic: Absolute POLYSICS book REVEALED!!!! (+surprise~)
Today, my little androids on this wonderful Coelakanth forum.... I have a surprise for you!!
To recap: a Japanese friend on Twitter sent me these out of the kindness of his heart. I'm still flabbergasted at all of this, even as I hold these amazing books in my hand!!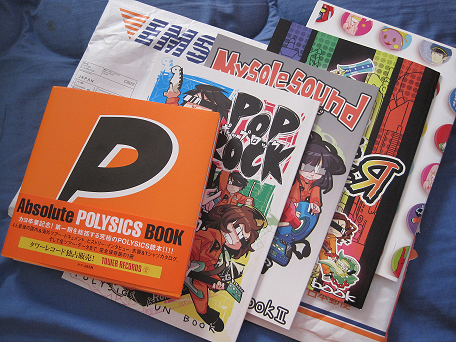 It was a HUGE surprise to get the Polysics fanbooks as well, as the sender only talked about me getting the AP book. These are so adorable, and one of them came with a mini poster!!
And so, pictures. I would love to actually take a picture of every page in the entire AP book, but at a whopping 224 pages, it's a huge volume! (A lot of it of it is Japanese text, unlike the NEU book, which was entirely made up of pictures.) I have taken pictures of a good bit of the book, though, so LET'S GO!! ABSOLUTE POLYSICS BOOK OR DIIIIIIIIIIE!!!!!
First, to get an idea of how BIG this book is, here it is on top of the NEU photobook.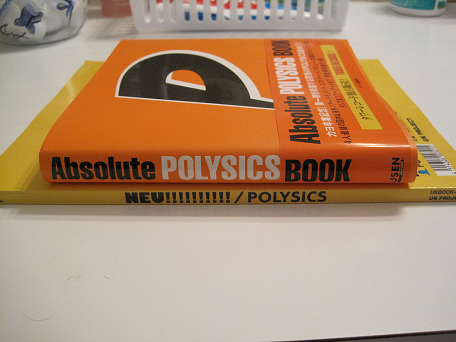 A Polysics encyclopedia!!
Here is my album of pictures, please enjoy!!
http://s776.photobucket.com/albums/yy43 … ?start=all
Some highlights:
- The cover under the jacket is very neat! All of their badges together....!
- The first few pages (one, two, three, four) show the band modeling their past outfits. I found this interesting, because at first I thought they were old pictures of them, but no, that's Yano in a NEU era outfit!! Pretty awesome to see him three of the old outfits! He looks so cool in the NatP one XDD Also, the first outfit that Hiro wears, the red with the Devo hat, is interesting because I've never seen an outfit from 1997! I didn't know it was red with black badges!!
- After just some pictures of the band, they get into interviews about each member's childhood. Loads of Japanese that I can't read, haha. There are many pictures of the band as little kids, but I thought this picture of Yano was really cute. I'll take some more pictures of these pages later!
- I love the picture of Hiro and Kayo here where they're in the outfits they wore during the Black Out Fall Out PV.
- I didn't notice anything funny about the middle picture here until I realized that Fumi was in a bag! What are you doing in there?? XDDD
- Towards the middle of the book, there are pages all about something each member likes. First up, Cooking with Hayashi!! One, two and three. I thought it was so funny that Hiro's outfit was a chef's outfit but with the P badge on it XD Everyone samples his food, I wonder if it was good.....!
- Next up, Kayo in Owl-land! Watch as she eagerly takes pictures of owls, becomes a perch for one and wears an owl hat. All together now: awwwwwwwwwwwwwwwwwwwwww!
- Third in the set is...... hitting bars with Fumi?
- Finally, yoga with Yano!! I'm surprised it wasn't something having to do with coffee XDD
- During the discography listing, there is a mentioning of a Studio Peach Pie. I have a feeling that it's just Hiro's house, rofl. Each picture is numbered, and here are the captions that go with it. There you go, go crazy Stu!!
- I haven't taken any pictures yet, but the list which has every Polysics live there ever was is TWENTY PAGES long. Woooooooow!!
- Shirt index! Page one, two, three, four, five, and six. How many do you have? 8D (I only have one.....)
- The last pages contain a written blurb by each member. Hiro and Yano's, Fumi and Kayo's. Is.... is that written in CRAYON?! The mental image of the four sitting around a table writing things with crayons is an adorable image XDD
- And the back under the jacket cover, with inside jacket flap, right here.
What a huge book....!! I am currently resizing the picture for the fanbooks, and I will post them here too!
I don't post here much anymore but I still have a fond appreciation for Polysics. Hit me up on Twitter @west_haven if you really wanna talk to me