Topic: 54 Nude Honeys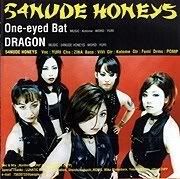 Anyone recognize the young woman on the far right? 8)
So from what information I've gathered, Fumi was the guitarist for this band before Polysics. She was invited to play bass for Polysics around in 1999 or so, and somehow along the way, she became a full member of the band we're more familiar with her being in (Source).
I didn't find out the band name, though, 'till I was randomly looking at the Japanese Wikipedia page for Polysics and I discovered the odd band name of "54 Nude Honeys" under the little blurb about Fumi. After a google search revealed the, uh, interesting outfits that they wear, I was instantly floored.
The little picture above is the only picture of Fumi from back then I can find (found it here), but.... wow XD
I find it neat that she was a guitarist and only played bass for Polysics since they needed one. I think I remember hearing somewhere (I believe it was in this bunch of moonspeak) that she started playing bass at age 20, so by the sounds of it she never even picked one up before Polysics. Just like Kayo and how she never played a synth 'till Hiro asked her to join the band.
So, I hope this stuff isn't common knowledge 'round here or anything, haha.
And I can't be the only person who wants to see more pictures of Fumi back then.
Edit: after some random searches, I may have found one of their early PVs and I think Fumi is in it. It's hard to tell, though; the quality isn't too great and with the crazy cinematography, it's hard to get good looks at everyone's faces, minus the lead singer. Here it is, and if this is against the rules, I'll take it down.
I don't post here much anymore but I still have a fond appreciation for Polysics. Hit me up on Twitter @west_haven if you really wanna talk to me